Description
Equinacea and Alfalfa Jr Farm
Healthy crude feed for every day.

With the natural ingredient of the Echinacea plant, Echinacine, the coneflower has a positive effect on your animal s immune system, and thus contributes to the animal s health.

The high crude fibre content ensures optimal digestion and thus enhances the feeling of well-being.
Features
Equinacea and Alfalfa Jr Farm
Reference

4024344070877

Weight

100 gr

Brand

Jr Farm

Product Range

JR Farm Food

Incisors control

Sticks

Product Type

Food

Flavor

Small Animal Type

Rabbits, Guinea Pigs, Hamsters, Degus and Gerbils, Chinchillas, Rats and Mice, Squirrels
Customer Reviews
Equinacea and Alfalfa Jr Farm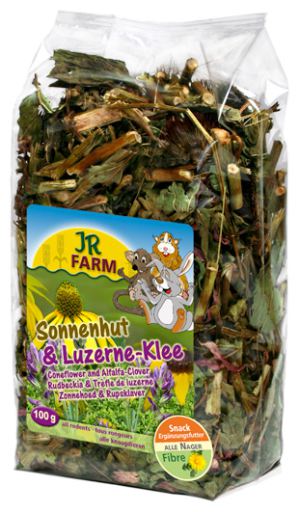 Buena calidad, a mi chinchilla le gusta.