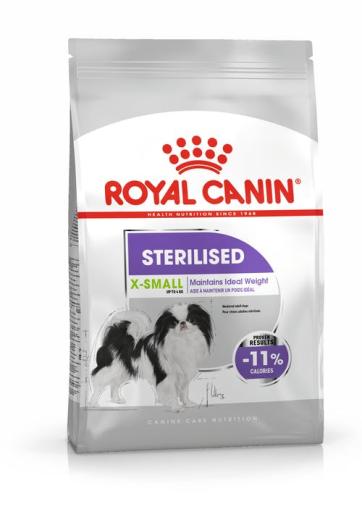 customer_also_bought_ani
Traveness

Traveness
Description
X small Sterilised Royal Canin
The dog food Royal Canin XSmall Sterilised is suitable for mini breed dogs (up to 4 kg) and after 10 months of age who have been sterilized and have a tendency to gain weight. The formula of this food gives your pet lots of protein (26%) and low fat (14%) to keep them in a good weight after sterilization.
The range of feed XSmall de Royal Canin are designed to provide all the nutritional needs very small dogs. Sterilised XSmall recipe consists of a number of fibers that help satiated sitting and do not eat between meals. It is also enriched with L-carnitine and made with fewer calories to maintain a healthy weight, because after sterilization increases the risk of obesity in dogs.
On the other hand, this food for sterilized dogs urinary health care for your pet. The components of this feed help reduce urinary problems mini breed dogs often suffer. Royal Canin selects the best chosen specifically for health care and welfare of the dogs, to promote growth and optimum development at all times ingredients. Royal Canin Vet Care line physiological products are designed to provide the necessary nutrients in each situation, such as sterilization.
ADVANTAGES:
Sterilized dogs feed very small from the 10 months.Combination of fiber and protein to control hunger between meals.Formula with a low fat content to maintain a healthy weight.Made with the components necessary for urinary health care.Food made with the best ingredients that promotes optimal development.
USE AND SPECIFICATIONS:
Sterilized feed very small (up to 4 kg) from 10 months of age, urinary health care, controls hunger between meals and helps maintain an ideal weight dogs.
Ingredients
X small Sterilised Royal Canin
Nutritional Description:
Ingredients: corn protein dehydrated poultry, isolated vegetable protein *, animal fats, corn gluten, vegetable fibers, wheat, hydrolysed animal, chicory pulp, mineral oil, soybean oil, fish oil, yeast, seed protein and integumentos psyllium, fructo-oligosaccharides, borage oil.
* L.I.P .: Selected for its high protein assimilation.
Analytical constituents: crude protein (26%), fat (14%), crude ash (5.2%), crude fiber (5.2%), moisture (9.5%), starch (31.3%), calcium (0.7%), phosphorus (0.57%), omega 3 fatty acids (0.66%), omega 6 fatty acids (3.51%), EPA / DHA (0.25%), biotin ( 2.71 mg / kg), DL-methionine (0.68%), arachidonic acid (0.06%), linoleic acid (3,31%), taurine (1000 mg / kg), L-lysine (1, 05%), arginine (1.44%), L-carnitine (200 mg), dietary fiber (14%), vitamin A (23,000 IU), vitamin C (200 mg), vitamin E (510 mg), methionine cystine (1.15%), nitrogen-free extract (ELN) (40.1%).Minerals: potassium (0.65%), magnesium (0.14%), manganese (63mg / kg), zinc (183 mg / kg), selenium (0.22 mg / kg), sodium (0.35% ), chlorine (0.71%), iodine (4.2 mg / kg), iron (148 mg / kg), copper (15 mg / kg).Vitamins: vitamin B5 (pantothenic acid) (34 mg / kg), folic acid (8.8 mg / kg), vitamin B6 (pyridoxine) (26.1 mg / kg), vitamin B1 (thiamine) (4.1mg / kg), vitamin B12 (cyanocobalamin) (0.07 mg / kg), vitamin B2 (riboflavin) (3.8 mg / kg), vitamin D3 (1000 IU / kg), choline (2100 mg / kg), vitamin B3 (niacin) (14.8 mg / kg).Metabolizable energy (measured): 3593 kcal / kg.Nutritional additives (kg): vitamin A (21,700 IU), vitamin D3 (1000 IU), E1 (iron) (42 mg), E2 (iodine) (4.2 mg), E4 (copper) (6 mg), E5 (manganese) (55 mg), E6 (zinc) (164 mg), E8 (selenium) (0.07 mg), pentasodium triphosphate (3.5 g).EC authorized preservatives and antioxidants.
Dosage:
This table shows the recommended daily ration. They are indicative amounts so you must serve feed your dog adapting them to their own characteristics.Always leave clean and fresh at your pet's water.Retains the container in a cool, dry place.
Features
X small Sterilised Royal Canin
Reference

3182550832540

Brand

Royal Canin

Weight

1,5 Kg

Physical Activity

Average

Age

Adult, Senior

Flavor

Chicken, Turkey, , ,

Dog Size

Small

Special Cares

Sterilized

Quantity

1,5 Kg

Made in

France

Power

16 W

Product Range

Physiological Royal Canin, Royal Canin SHN Size Health Nutrition, , , Royal Canin X-Small Size Health Nutrition, Royal Canin Physiological

Manufacturer

Royal Canin,ESP28000439,Royal Canin Ibérica, S.A. PLAZA CARLOS TRIAS BELTRÁN, 4 Madrid 28022 MADRID (ESPAÑA),

Produits Français
Customer Reviews
X small Sterilised Royal Canin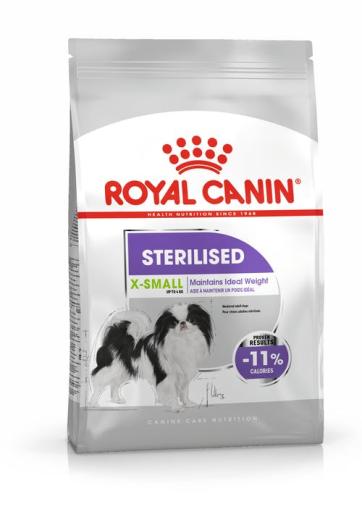 La marca gi una garanzia, la mia chihuahua le mangia molto volentieri.
inmejorable relacin calidad precio. Y realmente funciona. Como es para perros esterilizados ayuda a que mantengan un peso ideal.
Ottima qualit ad un ottimo prezzo.